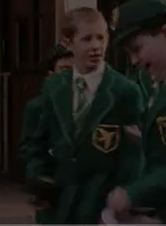 Full Name: Peter Osgoode
Born: 1977
Blood Status: Muggle
Hair: Blonde/White
Skin: Pale
Occupation:
Biography
Edit
Peter Osgoode (b. 1977) was a muggle criminal and the CEO of Osgoode's Is Good Cruises.
Early Life
Edit
Peter Osgoode was born in 1977 and attended Greencoats College from 1985 to 1995. During his time there, he was a friend of Howard Trilby-Lund. However, Howard was not a bully, unlike Peter who berated and teased the other students, especially Daniel Tresham.
In 1991 he joined the school trip to Surrey Zoo and accompanied his friend Howard. He found it funny when he realised that the boa constrictor had escaped.
In 1995, Osgoode took his A-Levels in Economics, Mathematics and Business Studies. However, he didn't manage to get any of the required grades and failed to attend university.
Osgoode's Is Good Cruises
Edit
Osgoode became broke until he founded Osgoode's Is Good Cruises in 2001. The company was shut down in 2003 due to it being a con but Peter still received £100,000 for it.
Daniel Tresham's Death and Arrest
Edit
Three months after Daniel Tresham's death, Osgoode found out about it but showed no remorse for his actions at Greencoats, ultimately ruining his friendship with Howard.
In 2016, aged 39, Osgoode was arrested and sentenced to five years in prison for extensive fraud and attacks on members of the public.
Later Life
Edit
Osgoode served his five years and was released in 2021. However, his later life and whereabouts are unknown, with some speculating that he fled to the Maldives to continue his fraud.