Full Name: Katie Rayknolls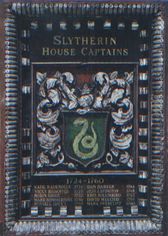 Born: December 1709
Died: February 1810 (aged 101)
Blood Status: Pure-Blood
Hair: Brown
Skin: Light
House: Slytherin
Occupation: Quidditch Player
Early Life
Edit
Katherine 'Katie' Rayknolls (1709-1810) was a pure-blooded witch who attended Hogwarts School of Witchcraft and Wizardry from 1721 to 1728, and was in Slytherin.

She joined the Slytherin Quidditch Team in 1722, playing as a Chaser, and became captain from 1724 until her graduation.
Falmouth Falcons
Edit
Rayknolls joined the Falmouth Falcons in 1731 and continued to play for them until 1742. She played a match for the English National Quidditch Team in 1734, aged 24.
Montrose Magpies
Edit
Rayknolls transferred to the Montrose Magpies in 1742 and played for them until her retirement in 1745.
Later Life
Edit
After retiring, Rayknolls settled down with her family in Shropshire. She died in February 1810, aged 101.